Setup your own free computer institute with ICERT

The ever growing impact of Information Technology on all forms of modern businesses makes the need to upskill even more important. For this purpose, there are many computer institutes in the market today but not all are experienced and trustworthy. Most of the computer institute franchises are operating today without proper infrastructure and resources which is not a good sign for its students.
To address all these issues, ICERT (Institute of Computer Education & Research Technology) was launched. ICERT is very different from other computer center franchises and better with many top features.
Unlike some computer institute franchises which do not have all the required licenses to operate, you do not have to worry about the same with ICERT. A top notch computer institute like ICERT follows all the government protocols and operates with proper and valid licenses. If you wish to set up your own free computer franchise, it's pretty easy. To make your decision easier, here are few legal aspects of ICERT.
Legal Background of
ICERT
ICERT (Institute of Computer Education & Research Technology) is registered under a public trust (Vide Registration No. 456), under NCT of New Delhi, Govt of India.
ICERT is an ISO certified company from U.K. Quality Control Certification and
QCI Certified (Registration No. CORP/EDU/6425/2019-20) Organization
ICERT is registered with M.S.M.E (Registration No. UP01E0056805),
Niti Ayog (Registration No. DL/2019/0230408)
But we are sure you will still be having many questions about ICERT. What about its performance, its partnerships, its reach, profitability, features, etc.? Let's explain it to you in simple words.
All You Need to Know about
ICERT'

s Performance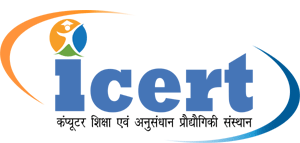 Currently, ICERT is working with 150+ Computer Institute Franchises across India
ICERT has successfully placed more than 5000 students in reputed Govt & Pvt Organizations
All of ICERT's partner computer institute franchises are operating on a good profit margin
ICERT provides an easy and effective platform which is available in both online and offline modes for our computer franchisee institute
Top Features of ICERT Platform
Using ICERT's platform, students and computer franchises can avail several features like
Online admissions
Blocking student records
Editing student records
Deleting student records
Downloading admit cards and
Generating student certificates
ICERT believes in providing value added and job oriented courses to help the youth access doors of employability. Over the years, with its network of 150+ computer franchise institutes, ICERT has helped more than 5000 students in getting placement at top institutes in both government and private domains.
Experienced Teachers at
ICERT
The expert teachers at ICERT's institutes are exhaustively trained to ensure the best possible quality education for its students. The dedicated teachers at our institutes are well experienced in their respective fields. They give priority to their students over anything else to help them succeed in their professional goals. ICERT and its 150+ computer franchise institutes are proud to be associated with such reputed, dedicated and resourceful teachers.
Teaching Modes
To keep in pace with the evolving modes of education, ICERT imparts valuable knowledge to its students in various forms like
Video Tutorials
Live and seamless interactions
EBooks
Printed books
Future Ready Courses
ICERT currently offers 90+ courses to its 15000+ students across 150+ computer franchise institute branches. The courses are designed and created in collaboration with domain experts keeping in mind the industry and market trends with regards to the ever changing job scenarios.
How can you start a new computer center?
If you wish to begin your entrepreneurial journey and want it to be a profitable journey as well without taking many risks, you should seriously plan on setting up your own computer franchise. And it's not much work. ICERT has helped more than 150 individuals in setting up their own computer institutes in several locations in India. All of our computer institutes are running and growing profitably due to the continuous support and mentoring of ICERT. Few reasons why you should setup your own computer institute franchise through ICERT
90+ future ready computer courses
15000+ registered students across India
150+ branches located in multiple cities in the country
5000+ students placed in top institutes
ICERT Offers Two Types of

Computer Institute Franchise
Free Franchise
Fill Franchise Registration Form
Benefits:-
Free Franchisee.
No Renewal Fees.
No Royalty Fees.
No Other Hidden Charges.
Online Admission.
Online Certificate.
Online Result.
Apply Free Franchise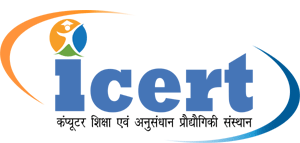 Paid Franchise
Fill Franchise Registration Form
Benefits:-
Paid Franchise.
No Renewal Fees.
No Royalty Fees.
No Other Hidden Charges.
Online Admission.
Online Student ID Card.
Online Admit Card.
Online Exam.
Online Fees Management Soft.
Branch Web Page.
Full Access for Student management portal.
Online Study Material.
Online Ad Material.
Student Fee Alert System.
Online Certificate.
Online Result.
Student Portal.
Regular Update in Branch Portal.
Apply Paid Franchise
Who can apply for ICERT Franchise?
New Computer Institutes.
Any individual who are willing to start computer institute.
Any institutes who are running vocational courses institute.
Any Society, Trust who are willing to start educational institute.
Any running computer center who want to take franchise of computer institute.
Infrastructure required for ICERT Franchise -
Minimum One Lab.
Minimum One Class Room.
Enough Space for Office.
Minimum 05 Computer System Required.
01 Printer, Good Internet Connection.
Trained Faculty.
Marketing Staff (Optional).
Certificate
Samples:-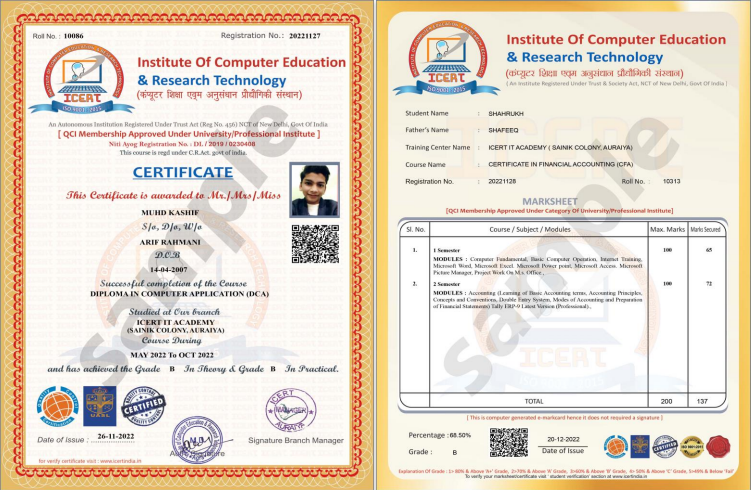 Our selected student in government jobs:-